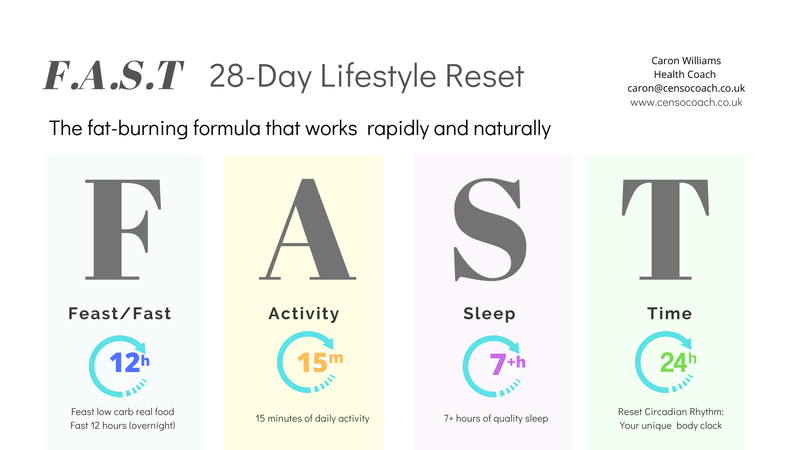 Want to reduce belly fat in 28 days? Gain energy? Sleep better? without the need for restrictive diets or exercise? Do you need a coach to help motivate and show you how to reach your health goals?Are you curious about intermittent fasting, sleep improvement and ancestral lifestyles?If your answer is YES...
I can help you.
I'm a certified holistic health coach with loads of experience in the health industry. I created my F.A.S.T fat-burning formula that help busy people like me (and you) to get you results in 4 weeks, while still enjoying a little wine with cheese (that's me) or your favourite meal at the right time for your unique body clock.
What is the F.A.S.T fat burning formula?
F= Feast (12 hours or less of low carb delicious food - yes bacon and eggs is ok)
F= Fast (12 hours each day around your sleep e.g 8pm to 8am fast)
A= Activity (15 minutes daily of movement or meditation)
S=Sleep (7+ hours of sleep is your superpower)
T= Time (Your unique 24 hour body clock - circadian rhythm is key to fat-burning success)
This is the way I live my life and I'm now in my mid-fifties!
All you need to do is book me for a 15-minute chat to find out if we are a good fit
How Does Health Coaching Work?
I provide cost-effective online group coaching for a 28-Day Lifestyle Resst package or I can work one-to-one for more intensive and bespoke services.
Healthcare professionals can only spend a few minutes with their patients to advise them on how to manage their health challenges. Usually its to send you out of the doctor's office with the out-of-date advice to "Lose weight and increase exercise" while giving you more pills to swallow .
Health Coaching is the bridge between medical recommendations and a person's ability to make the lasting lifestyle behaviour changes required to improve their health.
Let's see if we can improve your health together - starting with a free call to you. Take a leap of faith and
contact me to book a call
at your convenience.